Mediation talks over Bristol City FC stadium fail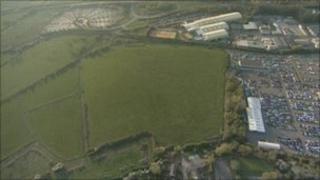 Mediation talks between Bristol City Football Club and residents near the site of a proposed new stadium have failed.
The club wants to build a new 30,000-seater stadium at Ashton Vale.
But following an application by residents, an independent planner recommended the area be registered as a town green, preventing new development.
Michael Lind, from mediation firm ADR Group, said talks between the sides had broken down.
The Liberal Democrat-run council has already approved the planning application for the stadium.
They will now have to take the final decision on the town green application which, if approved, would prevent development at the site.
A statement from the club confirmed the breakdown of talks, adding it was "naturally very disappointing news".
The club added: "We remain as determined as ever to deliver the regional stadium the city deserves and the vast majority of Bristolians support.
"A huge amount of effort has gone in to get to this point, with the result that we have the finance, political support and planning permission to build the stadium.
"We remain utterly committed to bring the vision and plans for a new regional stadium for Bristol to reality as soon as possible."
Club owner Steven Lansdown added he would continue to fight for the stadium.
He said the next step was to wait for the council's decision on the town green application.
Mr Lansdown said the club had submitted new information in its appeal against the town green decision.