Jersey election candidates may have to wait for results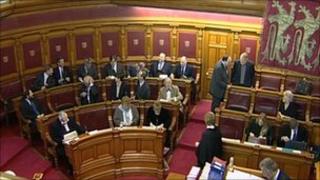 Candidates for election in Jersey may have to wait until the next day to find out if they have won a seat.
The politician responsible for organising elections said they were working out how it would work.
The October election will be the first time people can vote for Constables, Deputies and Senators on the same day.
Constable Juliette Gallichan said with all three types of States members being elected in the same night, it may take longer to count the results.
She said: "The count is going to be different because we are going to have one, two or three counts going on one after the other and we are working out the best way to do that.
"Once we know how many candidates there are and how many elections there will be in each locality, whether we can achieve all the counts on the same evening or whether we have to wait until the next day."
On Wednesday 19 October 2011 islanders will vote for four Senators, 12 Constables and 29 Deputies for a three-and-a-half year term.