Divers in underwater royal wedding toast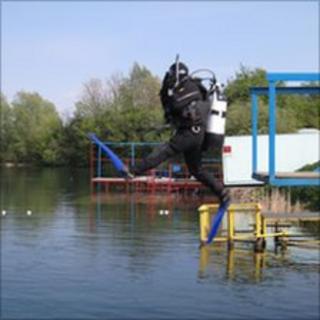 Scuba divers at two lakes will be marking the royal wedding with an underwater toast to the newlyweds.
Divers at Dosthill Quarry in Tamworth, Staffs, and Gildenburgh Water in Whittlesey, Cambs, will toast Prince William and Kate Middleton on Friday.
Ian Forster, who owns the two diving lakes, said drinking the non-alcoholic bubby about 3m (9.8ft) underwater "posed a challenge" for the divers.
An underwater treasure hunt for crowns and tiaras will be among activities.
Mr Forster, chief instructor at the two dive centres, said a royal wedding was a rare event and the diving celebration offered "something different".
Mr Forster said the royal family had a long association with scuba diving.
Prince Charles has been president of the British Sub Aqua Club (BSAC) since 1974 and he and his sons are all experienced divers.
Underwater wedding
Mr Forster said the links between the sport and royalty was among reasons that such a party was being held.
"I think divers appreciate the interest of the royal family in the sport but also divers are a notoriously social group," he said.
"It's like skiing and apres ski - but socialising is 10 times as strong among divers."
Mr Forster, 62, who has been diving for 44 years, said about 20 years ago he used to drink champagne underwater to toast in the new year, but it has since been recognised that "drinking and diving" was not recommended.
He said the divers marking the royal wedding will have to follow a "special trick" of drinking the beverage by holding the plastic bottles upside down and squeezing it into their mouths to counter water pressure.
The two dive centres have invited the public to the lakes for canoeing and snorkelling, as well as land-based activities such as a fancy dress competition and screening of the royal wedding.
Gildenburgh Water is no stranger to unusual celebrations as it previously hosted an underwater wedding for a couple who met while diving there.
Mr Forster said there had been "some difficulty" finding a vicar who also scuba-dived, but once they did the event went swimmingly and saw the bride and groom express their wedding vows by writing on chalk boards.