Daredevil killed at Kent show was 'new recruit'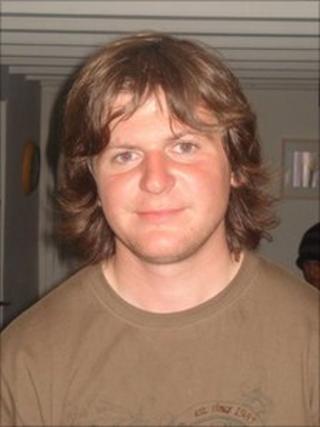 A "human cannonball" stunt man who plunged to his death at a Kent show joined the daredevil team five weeks earlier, according to a friend.
Matt Cranch, 23, from Newquay, Cornwall, suffered multiple injuries when he hit the ground after being fired from a cannon on Monday.
Friend Jacob Axtell said it was about the fifth time Mr Cranch had performed the stunt for Scott May's daredevil team.
He said he was devastated by his death.
Mr Axtell had joined the daredevil team at the same time as Mr Cranch but left the show two weeks ago because of family commitments.
He spoke to Mr Cranch before he took part in his first cannonball stunt.
'Stunt man now'
Mr Axtell said: "He was so excited about it that he bought his own helmet and he wanted to get a cape and everything.
"He was really, really into it."
Mr Axtell added: "He gave me a call as soon as he had done it [his first stunt], when he just got back from the show and he was so excited, saying: 'You're talking to a stunt man now' and I was happy for him."
When asked on BBC Radio Kent about how he felt after the accident, Mr Axtell replied: "Gutted, absolutely gutted. I was speaking to him the day before it happened.
"If I was on the show I'd have been doing the same stunts as him because we were a pair.
"We lived in this caravan together we did everything together.
"You can't describe the feeling when you lose someone that close to you. It's devastating really, just devastating."
Mr Cranch worked at the Watergate Bay Hotel near Newquay until last month. Its managing director Will Ashworth said: "He was extremely friendly and very popular.
"He was well-liked by everyone who met him, and our thoughts go out very much to his family and his many friends."
Mr Cranch, originally from the Isle of Man, was working with the Scott May daredevil team, based at St Just in west Cornwall, when the accident happened at the Kent County Showground at Detling.
Witnesses estimated he was launched up to 40ft (12m) into the air by the cannon before falling head-first into the safety net as it lay flat on the ground.
It was believed the crowd numbered about 2,000 people, including several hundred children.
Mr Cranch later died at Maidstone Hospital.
The stunt team said it was in shock and grief over his death.
Shows cancelled
A statement on the Scott May website, run by Stunts UK Ltd, said: "Our thoughts are with his family and friends at this sad time. We would like to thank the hundreds of people who have sent such kind messages of condolence."
Stunts UK Ltd, which is based in St Just, near Penzance, Cornwall, said it had cancelled all shows until further notice.
Kent Police detectives are leading the inquiry into the death and the Health and Safety Executive is also involved.
The force believes a safety net failed to engage.
Officers want to contact anyone who had any footage or recordings of the incident, he added.
A post-mortem examination is expected to be held later this week.
Maidstone Borough Council, which is also investigating the incident, said officers would be checking to see if any breaches of health and safety occurred.