Police raids in Hove over cuts march violence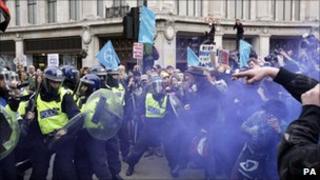 Police have arrested a man in connection with disorder at last month's anti-cuts demonstrations after carrying out three raids in Hove.
The Metropolitan and Sussex Police executed warrants at addresses in Westbourne Villas, Sackville Road and Lansdowne Place on Wednesday.
A 27-year-old man was arrested on suspicion of conspiracy to cause criminal damage and violent disorder.
Six people were arrested for drug possession and abstracting electricity.
Sussex Police said the 27-year-old man had been taken to London for questioning.
The TUC said 250,000 to 500,000 people attended the protest on 26 March in central London, which passed off without incident.
But a separate group - wearing scarves to hide their faces - started attacking shops and banks, clashing with some of the 4,500 police officers on duty.
A total of 201 arrests were made on the day but these were at protests separate from the official anti-government cuts rally.
In Piccadilly, shops and banks were attacked, and damage was caused to the Ritz hotel.