Two bodies found in crashed plane pulled from Essex lake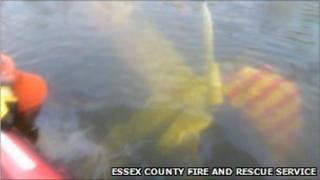 The bodies of two men have been found in a light aircraft that crashed into a lake in Essex.
The plane crashed into the lake at Ulting Lane in Langford, near Maldon, at about 1300 BST.
It was lifted from the water during the evening with the bodies of the pilot and passenger still in it.
The plane, a Russian-built Yak 52, was reported to have been flying in formation with two other aircraft shortly before the crash.
Emergency services were called by a member of the public and found the two-seater aircraft in the lake with its tail about 10ft (3m) under water.
Police have been trying to confirm who was on board in order to contact relatives.
Teams from the Essex Police marine unit and Essex County Fire and Rescue Service used boats to search the private fishing lake.
Metropolitan Police divers also took part in the operation.
'Formation flying'
Assistant divisional officer Dave Barritt, incident commander for the fire service, said initial reports suggested three vintage light aircraft were flying in formation over the area before one of them came down in the lake, possibly after clipping a tree.
The planes are a common sight in the skies above Essex ahead of a series of air shows this summer.
"A crash investigation will be carried out but we have found some debris at the side of the lake and the plane is completely submerged so it appears that the aircraft clipped the trees before ditching into the lake," said Mr Barritt.
The aircraft, an aerobatics trainer, was in the middle of the lake, which was "murky" and deep, he added.
It had taken off from North Weald airfield in Essex earlier on Thursday with two other planes, which returned safely to the airfield.
Derek Macnab, acting chief executive of Epping Forest District Council, which owns the airfield, said it appeared the plane had not been based there.
"Nevertheless, the crew will be well known to many people at North Weald," he said.
"I would like to express my deepest sympathies to everyone involved in what looks to be a terrible tragedy."
An Essex Police spokesman said: "Two people are believed to have been on board the aircraft. It appears that no-one has survived.
"The Air Accidents Investigation Branch has been notified and will be attending."