Royal wedding: North West celebrates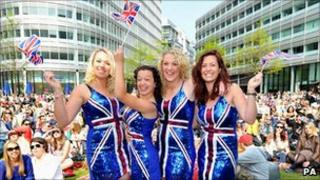 Communities across the north west of England have joined the celebrations marking the wedding of Prince William and Kate Middleton.
There were more than 500 official street parties across the region celebrating the royal wedding.
One of the region's more unusual party venues was Blackpool's North Pier.
A huge cheer erupted as the couple were declared husband and wife from the hundreds gathered before a big screen in Spinningfields, Manchester.
Gill Armstrong and her husband David, from Preston, brought their two children, Joseph, aged 18 months, and Ruby, four, to the event.
"We have come down to Manchester because there was nothing going on in Preston and we wanted to watch it on the big screen. It is too nice a day to watch indoors," Mrs Armstrong said.
'Proud day'
Forties enthusiast Alan Bates, 51, from Timperley, was among those attending a party in Edge Street themed on that era.
He said he was thrilled with the bride's wedding dress, designed by Manchester-born Sarah Burton of Alexander McQueen.
"I thought it looked very '40s," Mr Bates said.
Rupert Hill, 32, from Manchester, who was also attending the 40s party, said: "I was never really into the monarchy but now when you see how the Americans react, actually we're really lucky to celebrate a wedding - celebrating a wedding nationally is only something countries with a monarchy can do."
Liverpool John Moores University graduates Scarlett Smith, 23, and Chloe Kerr, 22, from Manchester, and Elle Davies, 22, and Lara Richards, 22, from London, dressed in identical dresses emblazoned with Union flag sequins for the event in Spinningfields, Manchester.
"We wanted to dress up and show our grandchildren what we were wearing on the big day," said Ms Smith.
Ms Davies added: "We got here at 8am and thought everybody would be dressed up but we were the first!"
Oliver Skipper, 25, from Didsbury, Manchester, came with his girlfriend Louise Maguire, 24, dressed as if they were attending a wedding as they viewed the service on a big screen in Exchange Square, Manchester.
"It's a proud day to be British and wave the flag - which is something we don't really do," he said.
Jenny Slee, 73, stood in for the Queen at the Chorlton Green street party judging the dog competition.
"It's rather sad actually because I had a little corgi and was asked to come as the Queen with the corgi but sadly Ratty [the corgi] died in March," she said.
One patriot in Merseyside vowed to party on despite the theft of 50 royal flags from his home.
Bill Jenkins from Wavertree, Liverpool, said: "We're having a party for friends and family and like all true patriotic British people we're going to have a Chinese takeaway."
Blackpool FC boss Ian Holloway, who met the prince when he watched a Seasiders' match at Bloomfield Road earlier in the Premier League season, had some words of advice for the royal couple before the wedding.
"Be good to each other, because that helps," said Mr Holloway, who added he would be missing the wedding because he would be taking a training session ahead of Saturday's home match against Stoke.
A Manchester artist made his own tribute with a portrait of the couple made from sweets.
Mark Kennedy made the art work out of hundreds of the sweets but said making the tribute was not without its challenges.
"It was very difficult as some glues melted the sweets," he said.