Second city Birmingham 'may lose title' to Manchester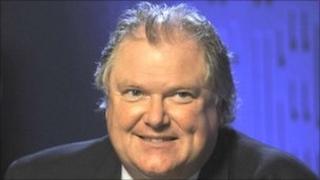 Birmingham is in danger of losing its second city title to Manchester, an ex-trade minister said.
Lord Jones of Birmingham said the "buzz" about Manchester, partly created by football success, would help give it the edge in many people's eyes.
He said Birmingham was also in "grave danger" of losing the title if areas such as transport were compared.
Birmingham Chamber of Commerce said the city still had the economic edge.
Lord Jones, 55, whose parents ran a corner shop in Alvechurch, Worcestershire, said "I think when you see the buzz about Manchester, I think a lot of people in Britain would think of it as Manchester, not Birmingham.
"No matter how much that grieves me.
"From Manchester United, it's Manchester City, it's Oasis, it's Coronation Street. It's all the things which give people this identity and ability to believe in themselves.
"Birmingham has almost always apologised for itself."
Lord Jones, formerly Digby Jones, said Birmingham was also in "grave danger" of losing the title if universities, transport, skills bases and civic leadership were compared.
His comments followed Manchester United clinching the Premier League title and Manchester City winning the FA Cup, beating Stoke City 1-0, on Saturday.
Birmingham chamber of commerce spokesman John Lamb said the Midlands city was "well aware of its skills shortage" and was working hard to address the problem.
'Trophy cabinets'
Those who work in the city every day knew it was "buzzing", with "great projects" anticipated, he said.
He said these included the New Street station upgrade, airport changes, Birmingham's new Centenary Square library, high speed rail and huge building projects.
"Even while it works to make up the skills gap, Birmingham still has the second highest GDP in the country, behind only London.
"We prefer to measure our standing economically rather than through a trophy cabinet."