Cruise ship MSC Opera passengers flown home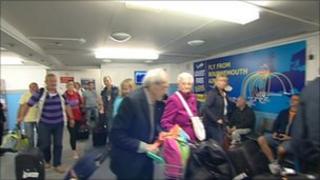 About 400 British passengers have been flown home from Sweden after the cruise ship they were on developed technical problems in the Baltic.
Tugs were sent to tow the MSC Opera to port after it lost all electrical power off the island of Gotland on Sunday.
Flights were chartered and the British passengers arrived into Bournemouth and Stansted airports on Monday night.
The ship left Southampton on 7 May with 1,800 holidaymakers for a trip visiting Copenhagen, Helsinki and St Petersburg.
It had been due back in the UK on Tuesday.
'Total darkness'
Geoff Simms, from New Milton, Hampshire, described the last few days of his holiday as "shocking".
"People were very fed up and scared as well as we were drifting.
"We were in total darkness, the toilets filled up and wouldn't flush for 10 hours.
"They didn't give us any information at all."
Mike O'Shea, from Bournemouth, had to travel back to Southampton to pick up his car.
"It wasn't too bad for the first couple of days, then the generator broke down.
"The biggest problem was the toilets. As long as they pay me the full amount they say they will then I'll be quite happy".
Fellow passenger Catherine Jardine, from Hebburn, South Tyneside had to spend the night in a hotel in Southampton before travelling home.
"It was disgusting, really bad," she added.
First-time cruiser Trudie Excell, of the Isle of Sheppey, Kent, praised the staff for organising her return.
"The staff have been brilliant, I have got no complaints whatsoever.
"A lot of people have come off that ship with a lot of freebies."
The ship's Italian-owned operators said the engines had to be switched off.
Swedish coastguards said MSC Opera was towed to the port of Nynashamn near Stockholm.
MSC Cruises said it was sorry it could not offer "its usual standards of service".
It added that passengers would be given credit vouchers for the full value of their trip.