Fifteen arrested in money laundering inquiry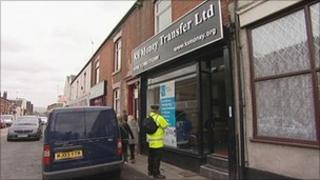 Fifteen people have been arrested across England in an investigation into the suspected laundering of more than £200m.
More than 250 officers from HM Revenue and Customs (HMRC) and police raided properties in Greater Manchester, Merseyside, Yorkshire and Nottingham.
The raids were part of a long-running investigation, codenamed Operation Enigma, HMRC said.
HMRC said the activity "sent a clear message" about money laundering.
Seven people, four men and three women aged between 32 and 71, were arrested in Rochdale.
A 31-year-old man was arrested in Manchester.
Four men, aged between 27 and 55, were arrested in Bradford.
In Nottingham, two men aged 43 and 37 were arrested while a 50-year-old man was arrested in Southport.
Alan Lee, HMRC's deputy director for criminal investigation, said: "Operation Enigma is an HMRC-led investigation targeting money laundering offences.
"Further details cannot be provided at this early stage, as our investigation is continuing.
"However, our activity today sends out a clear message to those involved in this type of criminality.
"Attempts to launder the proceeds of crime are treated extremely seriously by HMRC, and we will relentlessly pursue any individuals or crime gangs believed to be actively involved in money laundering."