Milly Dowler case: Sister 'knew something bad happened'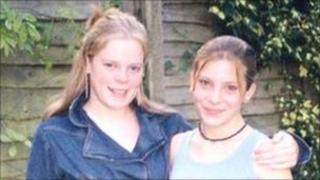 The sister of Surrey schoolgirl Milly Dowler knew "something bad had happened" when her sibling went missing, the Old Bailey has heard.
Gemma Dowler sat in court holding her father's hand as her statement was read out to the jury in the trial of Levi Bellfied, who denies murdering Milly.
The 13-year-old disappeared on 21 March 2002 while walking home from school in Walton-on-Thames.
Bellfield, 42, also denies attempting to kidnap another girl in March 2002.
In her statement, Gemma said: "I knew immediately something bad had happened to Milly, that she'd been abducted.
"There was no way she would ever run away from home or go off with someone without telling us."
She said their parents had always told them to telephone if they were going to be late.
Blunt instrument
The court heard the sisters slept in the same room and told each other everything.
"Milly and I didn't have any secrets," Gemma said in her statement.
Jurors heard another statement which was taken from Milly's friend Jacqueline Pignolly after the teenager vanished. Jacqueline described the last time she saw her friend.
The two girls usually took the train together after school and also walked home together, but that day Milly got off the train a stop earlier to get some chips with another friend, Danielle Sykes.
Jacqueline said she would stay on the train, to which Milly replied: "Great, who am I going to walk home with now?"
She added: "Milly gave me a hug and said she would see me tomorrow. This was the last time I saw Milly.
"She was wearing her silver necklace with an angel attached. She had been fiddling with it in the French lesson."
Miss Sykes, now 23, told the court that she and Milly went the station cafe, where Milly phoned her father and the pair chatted.
"She was still cracking jokes and being her usual self," she said.
Adding that Milly had been happy at home and there was no reason to think she had run away, she said: "We became really close. We confided in each other. We shared secrets.
"She was one of the funniest people I had ever met. She was always trying to make people laugh and smile."
She also said Milly had been very fond of her parents, adding: "She absolutely adored them."
Teenager's notes
On Tuesday, Milly's mother, Sally Dowler, collapsed while giving evidence about her daughter's disappearance.
Mrs Dowler had to be helped by family liaison officers after being asked about notes in which Milly had said she was unhappy.
Milly disappeared in Station Avenue, near Bellfield's home in Collingwood Place. Her remains were found six months later in woods in Yateley Heath, Hampshire.
Bellfield denies Milly's kidnap and murder.
He also denies the attempted kidnap of 11-year-old Rachel Cowles in Shepperton, Surrey, the day before Milly disappeared.
In 2008, Bellfield, a former wheelclamper and club bouncer, was convicted at the Old Bailey of killing Marsha McDonnell, 19, in February 2003 and Amelie Delagrange, 22, in August 2004, by striking them on the head with a blunt instrument.
In May 2004, he attempted to murder Kate Sheedy, 18, by deliberately running her over in a car.
The case was adjourned until Thursday.