Milly Dowler case: Uncle 'saw Levi Bellfield'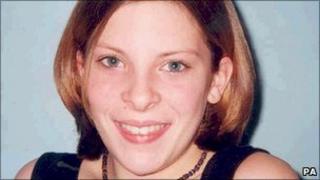 The uncle of schoolgirl Milly Dowler has told the Old Bailey he might have come face to face with the man accused of killing the 13-year-old.
Brian Gilbertson said he had gone out to look for the schoolgirl with a torch in the early hours when she failed to arrive home from school.
The prosecution says it was while he was out searching that he came across Levi Bellfield, who denies murder.
Milly disappeared on 21 March 2002 in Walton-on-Thames, Surrey.
Her remains were found six months later in woods in Yateley Heath, Hampshire.
'Intimidating manner'
The jury heard Mr Gilbertson was searching around flats in Station Avenue, where Milly was alleged to have been killed.
He said: "I saw a person walking towards me, a male. He was approximately 5ft 11in to 6ft 1in."
Asked what his build was, he said: "Stocky, and well built."
He added: "I believed his age was between 30 to 40 years old. His hair style was shortish hair, I would estimate it to be no more than about two inches long.
"The clothing this person was wearing was very dark and unrecognisable. He was approaching me in a concerning fashion. I felt it was an intimidating manner.
"He was walking towards me very confidently with the air of someone who was going to say something, or do something, to me."
Mr Gilbertson, a publican from Ongar in Essex, said the man had a dog close by, which was not on a lead.
"He was walking quite quickly towards me, and within 10 to 15 feet away from where we were going to pass, he veered off," he said.
Refuse bins
Mr Gilbertson said the man went to what appeared to him at the time to be an entrance to a block of flats.
He added: "When I revisited it during daylight hours, it was clearly an area where there were refuse bins, and where they put all the rubbish out."
Earlier Katherine Laynes, 24, told how she was the last person to see Milly alive.
Miss Laynes, who was 15 at the time, said she was sitting at a bus shelter when she saw Milly walking on the other side of the road.
She said: "We both made eye contact. I didn't wave or anything but I thought we both recognised each other."
Miss Laynes said after she had boarded her bus, she had looked for Milly but could not see her.
Bellfield denies Milly's kidnap and murder.
He also denies the attempted kidnap of 11-year-old Rachel Cowles in Shepperton, Surrey, the day before Milly disappeared.
In 2008, Bellfield, a former wheelclamper and club bouncer, was convicted at the Old Bailey of killing Marsha McDonnell, 19, in February 2003 and Amelie Delagrange, 22, in August 2004, by striking them on the head with a blunt instrument.
In May 2004, he attempted to murder Kate Sheedy, 18, by deliberately running her over in a car.
The trial has been adjourned until Tuesday.