Heysel film's Jean-Stephane Sauvaire to see Liverpool fans
By Peter Coulter
BBC News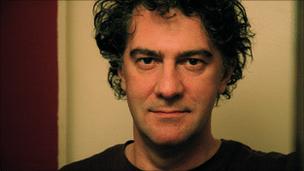 The French director making a film based on the Heysel tragedy has said he will visit Liverpool to meet with supporters.
On 29 May, 1985, 39 football fans died during violent clashes between Liverpool and Juventus fans at the European Cup final in Brussels.
Hundreds of other fans were injured in the incident.
Jean-Stephane Sauvaire's film will be based on Laurent Mauvigniers novel In The Crowd.
Those who died were 32 Italians, four Belgians, two French and a man from Northern Ireland.
As a result of the disaster at Heysel Stadium, Uefa banned English clubs from taking part in European football for five years, with Liverpool serving an extra year.
More than 60,000 Liverpool and Juventus fans were at the stadium, which was described as rundown, when violence erupted about an hour before kick-off.
A retaining wall separating the opposing fans collapsed as the Italian club's supporters tried to escape from Liverpool followers.
Backup films announced at Cannes Film Festival in May 2011 that a film was going to be made. French director Mr Sauvaire was announced as the director.
Speaking from New York, Mr Sauvaire said it would be "very important for me to come to Liverpool, and meet with everyone who wants to speak about the tragedy".
He said: "The novel by Laurent Mauvignier is amazing because it's all about the characters, before, during and after Heysel. It's a human way to tell this tragedy.
"Most of the film will be authentic and visceral. It has to be intense but honest. I want to respect anybody who will be part of the film. I'm not doing this film to judge, or giving lessons to everybody.
"I'm here to depict, retranscribe, film the events as they were, for the audience to be plunged into the stadium, into the chaos.
"I will have to see all the documents, films etc and meet a lot of people who were involved at this time. For example, Paul Greengrass did an amazing film with Bloody Sunday, I'd love with the Heysel tragedy to do a film in this vein."
Aidan Rimmer, 41, originally from Preston who now lives in Dunkerque, was 15 and in the crowd when the tragedy happened.
He said he welcomed Mr Sauvaire's willingness to meet with people who were there and said he would be happy to meet with him.
Mr Rimmer said: "At the game the atmosphere was great, the weather was really hot and the grass by the side of the main road leading up to the stadium was used for football matches between our supporters and Juventus supporters.
"Everyone was just having a good time and being really friendly, swapping scarves, sharing drinks and having a laugh together.
Mr Rimmer said he still remembered the atmosphere inside the stadium.
He said: "The Belgian police were searching bags, cladding fell from one of the walls and rocks and bottles were being thrown over the wall. I remember the police dogs and the baton charges by police.
"We were only kids but we climbed over the fence from pen XYZ and were helped by others. The actions of people running towards others isn't excusable. I still think about what happened in 1985 - I hurt like hell."
Mr Sauvaire's previous film Johnny Mad Dog was about child soldiers in Africa. He lived there for a year preparing the film.
Mr Rimmer added: "I liked what he said about the child soldiers and trying to help them out, maybe he'll act responsibly when making the Heysel film too."
Mr Mauvignier's novel, In The Crowd has been described by BBC sports journalist John Sinnott as a "remarkable portrayal given Mauvignier is French".
It follows Geoff, a Liverpool fan and his two brothers to the game and their interactions with the other fans.
Eddie Singleton, was also at Heysel that day, said he would not want to see the film because he did not want to "re-live" the memories.
He said after the tragedy he did not attend a Liverpool match for five years.
Mr Singleton he said that after attending a Spurs game where the Liverpool team did not acknowledge the fans, him and a friend were "jumped on".
He added: "I thought then, why am I risking this for them?
"That instance, along with Heysel, made me re-evaluate my priorities. I wasn't a hooligan. I was a decent fella, loyal football fan who loved the club, but I was sick of being treated like an animal.
"Spending my hard-earned cash and being treated like something scraped off the bottom of a shoe.
"For five years I didn't miss going to the game."
Mr Sauvaire said he was currently editing the script. The film will shoot in spring 2012 with a release predicted for 2013.
Liverpool FC said it was not prepared to comment while the film was in production.
Related Internet Links
The BBC is not responsible for the content of external sites.