Yorkshire's smaller parties look ahead following election disappointment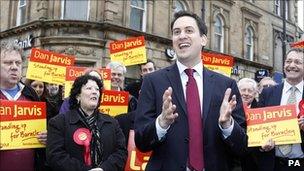 Earlier this week UK Independence party leader Nigel Farage was explaining that "disappointing results" for his party in the local government elections would not undermine the real swell of extra support for his party.
"After all," he said, "we recently came second in the Barnsley by-election."
What the affable MEP failed to mention was what happened in the Barnsley Council elections a few weeks later.
UKIP's parliamentary candidate Jane Collins decided to cash in on her apparent support, and stood in the Monk Bretton ward.
No champagne celebrations
Not a single one of the 60 or so UKIP candidates who put themselves forward across Yorkshire will be occupying a seat when the new councils meet for the first time this week.
And UKIP was not the only minor party having to put the bubbly back in the fridge.
The Green Party put up more candidates than ever before across Yorkshire. It did not have a single gain.
The English Democrats concentrated on the "stronghold" of Doncaster where the party's Peter Davies is Yorkshire's only directly-elected executive mayor.
Its 12 candidates went home empty-handed.
Groups of Independents have grown in recent years as an alternative to the traditional Labour control of the mining communities of Wakefield, Barnsley and Doncaster.
Labour took many of those seats back.
And the party is clearly over in Yorkshire for the far-right BNP.
Its black-suited candidates denied an internal split was the reason for it putting up just 50 candidates across Yorkshire.
It did not matter much as not a single one won a seat.
The BNP's biggest humiliation was in Barnsley. It had boasted extensive support in the South Yorkshire town and it fielded 19 candidates.
None came even close to getting a seat.
It seems likely that voters returned to their roots.
After all, the Liberal Democrats had spent the past decade building up a considerable power base in Yorkshire by taking votes from the Labour and Conservative parties by portraying themselves as the UK's non-aligned democratic buffer.
After just a year of being part of the coalition government that argument is now going down like a lead balloon in Yorkshire.
It looks like the voters wandering from Labour and the Conservatives decided to go back home.
Len Tingle and the Politics Show are taking a break on Sunday 29 May but will be back again the following week.