Tory MEP causes rape row over 'share of responsibility'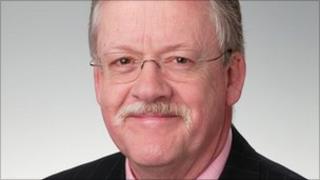 Tory Euro MP Roger Helmer is no stranger to controversy. But he may be regretting his comments on rape and sentencing policy.
Writing in his blog, he sets out his case for defining two types of rape: "stranger rape" and "date rape". It's his observations on "date rape" that have caused some upset.
Dating scenario
His blog images a situation where a woman voluntarily goes to her boyfriend's apartment.
He writes: "She voluntarily goes into the bedroom, voluntarily undresses and gets into bed, perhaps anticipating sex, or naïvely expecting merely a cuddle. But at the last minute she gets cold feet and says 'stop!'. The young man, in the heat of the moment, is unable to restrain himself and carries on."
"The victim surely shares a part of the responsibility, if only for establishing reasonable expectations in her boyfriend's mind," his blog continues.
He accepted he is likely to be "vilified" over his comments. Certainly, the Conservative Party has distanced itself. It's still only recovering from the political fall-out of Ken Clarke's initial thoughts on cutting prison sentences for rapists.
Critical reaction
One backbench East Midlands Conservative Nigel Mills, the MP for Amber Valley, has already urged the Euro MP to back off, saying any suggestion that the victim could be blamed "can't be right".
Another East Midlands Euro MP has entered the row: Bill Newton-Dunn, a Liberal Democrat, said Mr Helmer should withdraw his comments immediately.
"Roger Helmer has once again sought the limelight through making offensive and odious remarks on his blog," said Mr Newton-Dunn.
When I phoned Roger Helmer to get his response, he was on his way to a committee meeting at the European Parliament in Brussels. No, he didn't want to be interviewed, but it was clear this was one occasion when he wasn't enjoying being in the eye of the political storm.
"It's gone well beyond what I had in mind," he told me.
"I have been astonished by the reaction. I was offering my thoughts in support of what Ken Clarke had said. I am standing by what I said in my blog and am happy to leave it at that. I don't want to pursue it any further," he added.
Downing Street - and Ken Clarke - may welcome this particular Tory Euro MP maintaining a lower profile for a while.