Crewe grave thefts prompt security review of cemeteries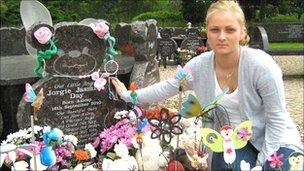 A review of security will be carried out at Cheshire cemeteries after items were stolen from young children's graves in Crewe.
It could lead to the introduction of CCTV cameras in many of the county's graveyards.
One mother told BBC Radio Stoke that thieves took two stone angels from her baby daughter's memorial.
The area's Conservative MP, Edward Timpson, called the perpetrators "mindless idiots".
Mr Timpson, the MP for Crewe and Nantwich, is now calling for the local community to work together to tackle the thefts.
"It's going to need some strong support from the council and the police, and from the wider community, to ensure that those mindless idiots who've done this - whether it's through stupidity or through vindictiveness - are deterred from doing it again."
Heidi Norman from Crewe was 34 weeks' pregnant when her baby, Jorgie Jasmine, was stillborn last September. She is buried in the Teddy Bear Garden at Crewe Cemetery.
"I come here every day to visit my little girl and bring her flowers, windmills, just to make it look nice. It's just a way of coping really," she told BBC Radio Stoke.
Natasha Nuttall, founder of the local arm of the Stillbirth and Neonatal Death Society (Sands), said it was one of several thefts she had been informed of so far this year.
Councillors have now agreed to meet Ms Nuttall and other parents affected to discuss the possible installation of CCTV cameras.
Peter Hartwell, from Cheshire East Council, said: "We do need to survey visitors again about the use of CCTV and see what support there is for that now."
He also suggested that if the support is overwhelmingly in favour of cameras, there is a chance that they could find their way into many more of the county's cemeteries.
A Cheshire Police spokesman said there had been only one reported theft incident from the cemetery but urged people to contact the force if they had been affected.
Related Internet Links
The BBC is not responsible for the content of external sites.