'Boiler room' gang suspects arrested in Spain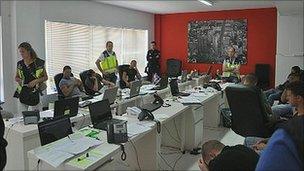 Fifteen Britons suspected of running one of Europe's biggest "boiler room" scams have been arrested in Spain.
Armed police carried out a raid in Mallorca as part of an investigation into a gang believed to have been cold-calling thousands of UK residents.
The arrested men, from Nottinghamshire, Essex, Luton and London, appeared briefly in a Spanish court yesterday but are yet to face trial.
Boiler room fraudsters use pressure sales tactics to sell worthless shares.
City of London Police, who worked with the Spanish authorities, said younger members of the alleged scam are thought to have been lured into the operation by crime bosses who targeted them in English-speaking bars.
Dyno Medical, Inca Pacific Gold and Mining and Viking Gold Resources have been named as fake companies linked to the gang.
The 15 include Liam Rymell, 23; Dominic Jones, 24; Shafiq Dad, 41; Omar Rana, 27; and Rashid Shafayat, 30, all from Nottingham.
Also arrested were John Bartlett, 22; Tyrone Robinson, 23, and Lee Fisher, 24 - all from Mansfield - and Essex residents Danny Dilliway, 25, Chris Savva, 30, Mohamed Ghazalli, 26, and Neil Simpson, 27.
Farhan Khan, 24, from Hayes, west London; Anthony Baugh, 25, from Luton; and Fahim Khan, 36, from south London but residing in Spain, are the other British suspects.
Two German nationals also appeared in court.
Boiler room scams are estimated to cost the UK about £200m a year.
Related Internet Links
The BBC is not responsible for the content of external sites.