Essex peer Lord Hanningfield found guilty over parliamentary expenses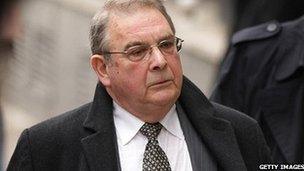 Lord Hanningfield, the former leader of Essex County Council, was the first parliamentarian from the East to stand trial over his expense claims.
The case shone a light on the way members of the House of Lords claimed expenses. It has also re-opened the debate about whether peers should be paid for their work.
The basic facts of the case were that Lord Hanningfield claimed the House of Lords overnight subsistence allowance, payable to peers who have to spend the night in the capital because of their parliamentary duties, even though he returned to his home in Essex every night.
He also claimed for rail fares to London on days when he didn't go.
Lord Hanningfield admitted that some of his claims had been made on days when he did not go to London and that he always went home at night, but he said he was using the allowance system to recoup his costs - and he claimed he wasn't alone.
"The whole general thinking in the House of Lords was that you were entitled to that money," he told the court, pointing out that while MPs are paid a salary of £73,000, peers receive nothing.
"The House of Lords is unique in asking people to do a full-time, demanding job and not paying them for it," said Alun Jones QC for the defence.
"Lord Hanningfield has made no money out of 40 years of public service," he said.
Peers do not have to produce receipts to back up their claims.
"The House of Lords assumed members would give a truthful and accurate account without having to prove they'd told the truth," said Clare Montgomery QC for the prosecution.
Peers can claim up to a certain amount for their day and night subsistence (night subsistence was between £150 and £174 for the period covered by the charges in this trial).
The court was told by Jonathan Smith, a finance office at the House of Lords, that 90% of peers claimed expenses and of that 90%, 85% claimed the maximum amount.
Didn't it make his staff suspicious, he was asked, that so many peers were claiming the maximum amount?
The finance officer admitted that his staff had "raised an eyebrow" from time to time.
Lord Hanningfield said because it appeared that everyone else used the allowance system to recoup their costs, he would do the same thing.
"I was spending on the public far more than I've ever claimed, the public have had fantastic value out of me," he told the jury.
"I was giving good service to the country, someone had to pay my expenses."
But the prosecution said whether he was out of pocket or not, the claims forms made it clear that travel could only be reimbursed on days when a peer had travelled and an overnight stay claimed for when he'd stayed overnight.
The court heard that Lord Hanningfield had a corporate credit card from Essex County Council, that he ran up costs of around £5,000 a month and that it was always paid off by the council.
Lord Hanningfield unrepentant
Extracts from his diaries were read out in court revealing that he had dined at top London restaurants and in the House of Lords. He told the court his bar bill was around £400 a month.
Lord Hanningfield said all this entertainment was essential, as the county council negotiated contracts which would save millions of pounds.
We also learnt that Lord Hanningfield took out a personal loan so that he could employ an assistant. That assistant later got a job working for Essex County Council.
Throughout his evidence Lord Hanningfield kept stressing how hard he worked and how much he enjoyed public office.
The prosecution did not dispute this but emphasized that the rules about expenses were "absolutely clear".
"If you cannot afford to be a peer," said Miss Montgomery QC, "the answer is not to make up false claims. It's to stop doing the job."
After the verdict, Lord Hanningfield was unrepentant. He said today that he was innocent and was devastated by the verdict.