Jailed Lapland New Forest park brothers can appeal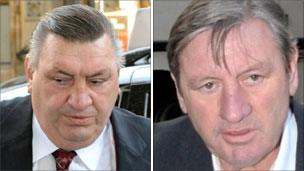 Two brothers jailed for misleading customers at a Lapland-themed park have won the right to appeal against their convictions.
Victor Mears, 67, and Henry Mears, 60, both of Brighton, ran the Lapland New Forest attraction on the Hampshire and Dorset border in 2008.
But it closed within days of opening after hundreds of complaints.
Both men were jailed for 13 months in March after they were convicted of eight charges of misleading the public.
A judge at the Court of Appeal appeal in London granted them permission to appeal against their convictions after hearing about alleged juror misconduct during the trial.
Geoffrey Robinson QC told the court in London that one woman in the jury had been in regular contact with her fiance, who sat in the public gallery and hung around the court during the trial.
They sent text messages to each other, even while the juror was in the jury box, with one of the man's messages reading "guilty".
The fiance also texted her from the public gallery to warn her when she may be called back in following discussions in the absence of the jury. She showed some of these to other members of the jury, the court heard.
The woman admitted being in touch with her fiance.
She said his "guilty" text was an apology from him for eating a fried breakfast that morning, when he should have been on a diet.
Mr Justice Sweeney said the appeal was "arguable" and granted permission for a full appeal hearing before three judges, likely to take place next month.
He denied the brothers bail.
During the trial the court was told that customers, who paid up to £30 a ticket, were greeted by a muddy field, fairy lights dangling from a tree and a broken ice rink.
Less than a week after opening in November 2008, the attraction closed, with its owners blaming the media and sabotage by "New Forest villains" for the decision.
The trial, brought by Dorset Trading Standards, heard that Victor Mears, of Selsfield Drive, and Henry Mears, of Coombe Road, could have made more than £1m from advanced ticket sales.
Related Internet Links
The BBC is not responsible for the content of external sites.