Devon and Somerset Fire Service to cut 16 jobs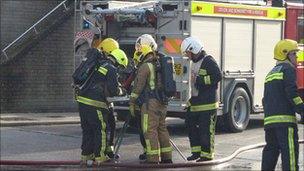 Sixteen jobs are to be cut from the Devon and Somerset Fire and Rescue Service.
The cuts, which will see 12 posts go from Somerset and four from Devon, were agreed at a meeting of the Devon and Somerset Fire Authority held in Exeter.
The move is part of plans to cut millions of pounds. The authority estimates it will have to save £3.5m in 2013 and a further £3.5m in 2014.
Plans to have firefighters work 96-hour shifts have been put on hold.
The authority had put forward proposals for firefighters to volunteer to stay at their station for four days - 96 hours - on the run to make savings and sustain cover.
But the Fire Brigades' Union (FBU) said it was against employment law and would put public safety at risk.
Speaking about the approved cuts, Tam MacFarlane, from the FBU in Somerset, said the move could be a sign of more cuts in the future.
He said: "We're very clear: to run an effective, modern fire and rescue service, you need properly trained staff in sufficient numbers. The authority today has just removed a large proportion of them
"If they carry on down this line, we may see far more removed."
Mark Healey, chairman of the fire authority, said the service had to make savings.
He said: "We've got to save some £8m. How do we do that? We made a very bold decision as a fire authority and said 'this is not what we want to do, but we've clearly got to find a way forward'.
"We're not making people redundant. When jobs fade, we'll not replace them.
"It won't harm any front-line service to the public."
The cuts are being made as a result of the government's Comprehensive Spending Review which fixed spending budgets for each government department up to 2014-15.
Related Internet Links
The BBC is not responsible for the content of external sites.