Severn Valley Railway aids heritage line after landslip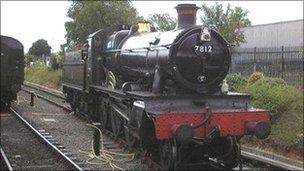 A train is being run by the Severn Valley Railway (SVR) to raise money for another steam heritage railway after a second landslip.
The Gloucestershire Warwickshire Railway has faced a £1.45m repair bill following landslips in April 2010 and January this year, SVR said.
A service will run on Wednesday between Kidderminster, Worcestershire, and Bridgnorth, Shropshire, to raise money.
SVR said this would repay the railway's support after its flooding in 2007.
The West Midlands railway was forced to substantially rebuild much of its 16-mile line between Kidderminster and Bridgnorth.
Floods washed away four major sections of the SVR line on the 12-mile section between Bridgnorth and Bewdley, Worcestershire, causing more than £3.5m worth of damage.
The Gloucestershire Warwickshire line reopened as two railways after the landslips, at Gotherington in April 2010 and Winchcombe this year, with both services starting last month.
One line offers a nine-mile round trip from Toddington via Hailes Abbey and Laverton and the other provides a 14-mile round trip between Cheltenham and Winchcombe.
SVR said it was helping the other steam heritage railway to "get back on its feet".
Gloucestershire Warwickshire volunteers came to its aid after the 2007 flooding and Wednesday afternoon's train "gives us the opportunity to repay their kindness and support", SVR added.
Visitor services manager David Mee said: "We have been in this boat.
"Although the devastation we suffered in 2007 was over a substantially longer section of railway, the impact on the Gloucestershire-Warwickshire line is very similar.
"The railway is facing the most daunting costs for rebuilding and can only operate a reduced service, which of course affects their incoming revenue."
Related Internet Links
The BBC is not responsible for the content of external sites.