Ex-stuntman Eddie Kidd still walking London Marathon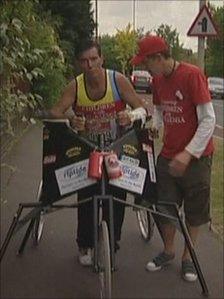 Former stunt rider Eddie Kidd, who was brain damaged in an accident, is entering his final week of walking the London Marathon route.
Mr Kidd, of Seaford, East Sussex, was injured in 1996 when his bike crashed after jumping across a drag strip.
He has been walking up to a mile a day in aid of the charity Children with Leukaemia, despite the severe disabilities he suffered in the crash.
He started with the competitors on 17 April and is due to finish on 6 June.
He is using a specially designed walking frame after spending months training for the marathon on Brighton seafront.
Despite his slow progress, he has said he is determined to reach the end of the route.
His wife, Sami Kidd, said he was doing well despite being caught in a "mini monsoon and getting stuck in absolutely torrential rain" last Thursday.
She said he was expected to cross the finishing line on the Mall at 1900 BST on Monday 6 June.
"We want anyone to come down and be there to cheer him on so he gets his big grand prix finish.
"We want to spray him with champagne and say well done Eddie," she said.
Mrs Kidd added: "He's just really keen now to get this finished.
"His glass is half full, so it's spurring him on, and giving him more adrenalin to get to the end."
The total raised so far for Children with Leukaemia stands at £60,000, exceeding Mr Kidd's original target by £10,000.
Related Internet Links
The BBC is not responsible for the content of external sites.