Richard Hollington's father completes South Downs hike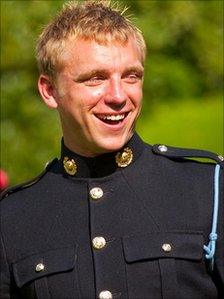 A father from Hampshire has completed his non-stop walk across the South Downs in memory of his Royal Marine son who was killed in Afghanistan.
Robin Hollington's 23-year-old son Richard died from injuries caused by an explosion on 20 June 2010.
Mr Hollington was joined on the 103-mile "yomp" by his son's former troop sergeant and fellow marines who were with him when he was injured.
The hike from Eastbourne to Winchester raised £35,000 for Help for Heroes.
Mr Hollington, of Petersfield, who was a marine himself for 20 years, set off on Saturday, taking 38 hours and 36 minutes to reach King Alfred's memorial in Winchester.
He and four other "yompers" - Richard's uncle Jos Hollington, fellow Marine Ollie Spence, youngest "yomper" Sam Murray and family friend Mark Wilkinson - were the only ones from the original 24 to complete the distance.
The other 19 had to pull out of the trek at varying distances having suffered numerous injuries including torn ligaments, sprained ankles and bleeding blisters, the majority of which were sustained in the dark.
Speaking on his arrival on Sunday night, Mr Hollington said: "That was a bit harder than I thought it would be.
"It was in the dark that things got a little tricky, especially when people started getting hurt and having to get them off the path without causing any more damage, but I never once contemplated not finishing.
"I'm really touched by the support and generosity of people we passed on the footpaths who put donations in our buckets."
To date he has raised more than £100,000 for Help for Heroes, and is hoping to break the £110,000 mark by the first anniversary of his son's death on 20 June.
Marine Hollington, who was a member of 40 Commando, was caught in a blast in Helmand province, in Afghanistan.
He was flown back to England, but died from his wounds in the Queen Elizabeth Hospital in Birmingham with his parents and two brothers by his side.
He became the 300th member of UK forces to have died in Afghanistan.
Related Internet Links
The BBC is not responsible for the content of external sites.