Excavation at site of Roman altars find in Maryport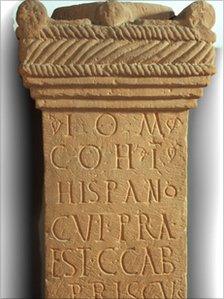 Experts from Newcastle University are to begin excavating an internationally important Roman site in Cumbria.
The archaeological team is focusing on the site of a major discovery of Roman altars 141 years ago.
The site where the 17 altars were found now forms part of the Roman Maryport site at Camp Farm, which is owned by Hadrian's Wall Heritage.
It is hoped the dig, which will continue into July, will shed light on the nature of religion at the time.
Project leader, Prof Ian Haynes said: "The Maryport altars have been at the centre of international debate about the nature of religion in the Roman army for decades.
"However, we still know very little about the context in which they were originally deposited and this project represents a marvellous opportunity to further our understanding."
The altars are housed at the Senhouse Museum Trust in Maryport which commissioned the excavation.
They were found by landowner Humphrey Senhouse in 1870 and form part of a significant collection of Roman sculpture and inscriptions at the museum.
Trust chairman Peter Greggains said: "It is very exciting that we can now revisit the site where the altars were found and, with modern methods, learn more about their burial and other activity in this area more than 1,800 years ago."
Linda Tuttiett, chief executive of Hadrian's Wall Heritage, said the work was a key element in understanding the development of Roman activities in Maryport.
Related Internet Links
The BBC is not responsible for the content of external sites.