Gatwick officer gets £100,000 over asylum seeker bite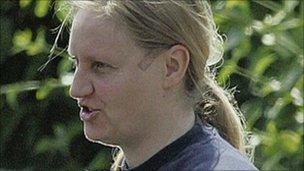 A custody officer who was bitten on the face by an HIV positive asylum seeker has been awarded more than £100,000 compensation.
Barbara-Ann Ennis, 40, needed three operations to repair the wound and had to wait six months before being given the all-clear over HIV.
Ms Ennis, an army veteran who served in Bosnia and Iraq, was scarred for life by the attack at Gatwick Airport.
Her former employer, G4S, said it could not comment on the ruling.
Lawyers for Ms Ennis said that after the attack in August 2006, it emerged the detainee, Sylvia Fileingoshisho, had bitten another officer just days earlier.
An error meant Ms Ennis was unaware of the previous attack, which happened as the detainee was moved from Yarl's Wood Immigration Removal Centre in Bedford to the West Sussex airport.
Ms Fileingoshisho was later jailed for three years and deported.
"Since the attack, my life's been like a living nightmare I can't wake up from," said Ms Ennis, from Ashford, Kent.
"The trauma of thinking that, through no fault of my own, I'd been infected by a truly dreadful and life changing disease...and enduring a six-month wait to find out my fate has been torturous.
"I want to compel employers to take every step possible to protect workers so what happened to me can never happen to anyone ever again."
Ms Ennis left her job because of her physical and psychiatric injuries at the end of 2007. The compensation was awarded in an out-of-court settlement.
Her lawyer, Natasha Lewis, of Irwin Mitchell, said the damages would enable Ms Ennis to rebuild her life.
"Barbara-Ann's injuries have had a devastating impact on her social and professional life," she said.
"To learn that another officer had suffered a similar attack just days before, and that still precautionary measures had not been put in place to protect staff against a clearly violent and dangerous individual has been a serious cause for concern."
G4S said in a statement: "We will not comment on the ruling itself.
"However, the safety and security of our employees and those within our care is paramount to our operations.
"We reviewed the recommendations of the investigation following this incident and incorporated those which were appropriate."
Related Internet Links
The BBC is not responsible for the content of external sites.