Moat Taser man Peter Boatman's inquest records open verdict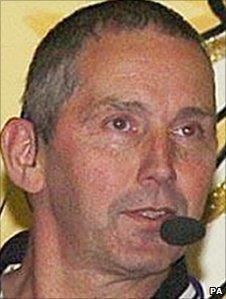 A coroner has recorded an open verdict at the inquest of a company director whose firm supplied Tasers which were used in the stand-off with Raoul Moat.
Taser expert and former policeman Peter Boatman, 57, was found dead at his home in Kingsthorpe, Northampton, nearly three months after the gunman died.
Pro-Tect Systems supplied unapproved Tasers to Northumbria police.
Mr Boatman was said to have been "ashamed" when the Home Office revoked his licence to supply the items.
He was found dead on 1 October last year, three days after the licence was revoked.
The inquest into his death was held at Northampton General Hospital.
Moat shot himself during a stand-off with police in Rothbury, Northumberland.
A spokeswoman for Northamptonshire Coroner's Office said coroner Anne Pember recorded an open verdict.
Officials said Mr Boatman's company, based in Daventry, had breached its terms of agreement.
The firm supplied X12 Tasers, which were still being tested by government scientists, directly to police involved in the hunt for Moat.
Pro-Tect's managing director Kevin Coles said at the time of Mr Boatman's death: "He was a proud man and he felt ashamed at recent developments.
"He spent all his life involved in officer safety and what happened was a result of him being worried about the welfare of officers.
"He knew there was something there that would offer the officers protection and that was what his motive was. The furore over it destroyed him."
More than 700 mourners attended Mr Boatman's funeral at St Michael's Church in Northampton last October.
Moat went on the run in Northumberland in July 2010 after shooting his former girlfriend, Samantha Stobbart, 22, and killing her boyfriend Chris Brown.
He also shot and wounded Pc David Rathband, blinding him.
Moat was eventually tracked to Rothbury where he shot himself.
Northamptonshire Police, which concluded its investigation into Pro-Tect last October, said at the time that it was not in the public interest to take any action.
The force said the matter had not been referred to the Crown Prosecution Service and a spokeswoman added it would be up to Pro-Tect Systems to reapply for a licence.
Related Internet Links
The BBC is not responsible for the content of external sites.