Alexandra Hospital 'failed to provide liquid food'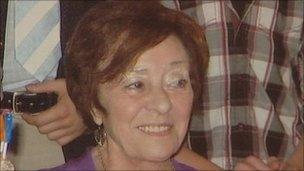 The son of a woman who died in hospital claims she did not receive liquid food for weeks, despite being admitted in a state of malnutrition.
Redditch's Alexandra Hospital did not prescribe Betty Leighton intravenous food when it was "obvious" she could not swallow, son Peter Jinks said.
He said staff never came to terms with what was wrong with his mother, 70, who spent two months in intensive care.
The hospital said it would meet Mr Jinks on Friday to discuss her care.
Mr Jinks, from Solihull, said before she went into hospital his mother could not eat or drink apart from "bits of cakes" and everything she consumed was "brought back up".
His mother was admitted in February and died on 30 April.
Mr Jinks said: "They didn't keep their eye on the ball in terms of monitoring her.
"It was obvious she couldn't swallow. But they didn't prescribe liquid food or intravenous food.
"She was on a drip for only a couple of days and then she deteriorated over three weeks before she was moved to intensive care with a suspected heart attack.
"When she arrived in intensive care, they realised she was completely malnourished and they prescribed liquid food and water at that stage."
Mr Jinks said that although he did not believe the failings at the hospital contributed to his mother's death, he did feel they made her final days more distressing than they should have been.
In a statement, Dr Charles Ashton, medical director for Worcestershire Acute Hospitals NHS Trust, said: "I will be meeting with Mr Jinks on Friday 3 June 2011, so that we can talk through all aspects of the care and treatment his mother received."
Last week serious concerns were raised by the NHS care regulator about the way some hospitals in England look after elderly patients.
The Care Quality Commission said the Alexandra Hospital, the Royal Free Hospital in north London and Ipswich Hospital had failed to meet legal standards for giving patients enough food and drink and treating them in a dignified way.
Worcestershire Acute Hospitals NHS Trust, which runs the Alexandra, said it was "extremely disappointed" by the findings but claimed it had already shown "significant improvements".
Related Internet Links
The BBC is not responsible for the content of external sites.