Farnborough jet crash deaths were accidental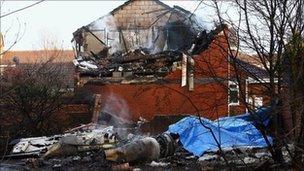 The deaths of five men killed when a private jet crashed into a house in Kent were accidental, an inquest jury has decided.
The Cessna ploughed into a house in Farnborough on 30 March 2008 shortly after taking off from nearby Biggin Hill airport en route to Pau in France.
Pilot Michael Roberts reported a problem within a minute of take-off.
Witnesses reported seeing the jet flying low over homes before crashing into the house in Romsey Close.
Mr Roberts, 63, from Effingham, Surrey, was one of two people on board who were qualified to fly the Cessna.
With him were co-pilot Michael Chapman, 57, of Shoreham, West Sussex; Dumfries-born David Leslie, 54, a former racing driver; Richard Lloyd, 63, from Brackley, Northamptonshire and Christopher Allarton, 25, of Coventry, but formerly of Newark, Nottinghamshire.
All five died when the twin-engined, Bermuda-registered aircraft crashed, causing a major fire which destroyed the house.
Home owner Edwin Harman was away on holiday at the time. His wife, Pat, who had returned early, was on her way to the house after spending the night at her daughter's.
The inquest in Bromley, south-east London, heard that Mr Roberts reported engine vibrations after take-off and asked permission to return to the airport, telling air traffic control: "We have a major problem."
Mark Jarvis, senior engineering inspector at the Air Accidents Investigation Branch, said the vibration was most likely to have been caused by a failure of the plane's air-conditioning and pressurising system.
He also said that a rivet head missing from the left engine's fuel-cut-off levers could have caused it to shut down.
Returning their verdicts, jurors said the presence of "black box" flight recording equipment would have helped with the investigation into the cause of the crash.
Coroner Roy Palmer said he would be writing to the relevant authorities about the lack of a "black box".
The Air Accidents Investigation Branch (AAIB) had also recommended making it mandatory to examine rivets during maintenance checks.
Dr Palmer said: "I will be writing a Rule 43 letter to back-up the recommendations already made by the AAIB in the hope that some steps can be taken to prevent this problem happening again and, if it does, making analysis of the problems rather more easy."
Related Internet Links
The BBC is not responsible for the content of external sites.