Twinings loses EU grant for new Poland site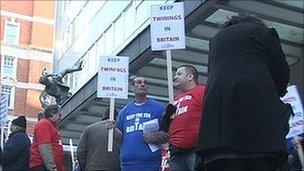 A £10.5m grant to help a company fund the opening of a tea packing factory in Poland, as hundreds of jobs are lost at its UK sites, has been withdrawn.
The Twinings plant on North Tyneside, which employs 260 workers, is to close, and 100 posts in Andover, Hampshire, are also set to go.
Owner AB Foods is planning to open a £27m site in Poland later this year.
But the European Commission (EC) said the firm failed to prove the move was regeneration rather than relocation.
Keith Taylor, Green MEP for South East England, said: "I've been challenging this grant for over a year now.
"Today's decision to cancel it is a victory for Twinings staff who've lost their jobs and the campaigners who supported them.
"EU regeneration cash should be used for genuine regeneration, and not simply for corporations to move jobs to lower wage economies and then get taxpayers to foot the bill.
"That they very nearly got the taxpayer to fund part of their relocation tells me there is a loophole in EU regulations that needs closing to stop this happening again."
A spokesman for Twinings confirmed it had learned it had not met the criteria for the grant.
He added: "Our decision to build a new factory in Poland was not based on receiving any external funding.
"It is normal practice for businesses to review potential available grants and where relevant apply for them if they support the development of their business.
"As previously stated, our investment plan was not reliant upon receiving any grant and the project continues.
"It is important to stress that Twinings remains committed to the UK and more than 90% of the tea British customers drink will continue to be produced here in the UK."
The EC had already agreed to the grant but no money has been paid to the firm, which it said had failed to provide assurances over its plans.
Related Internet Links
The BBC is not responsible for the content of external sites.