Teenage politician Josh Newlove hits back at critics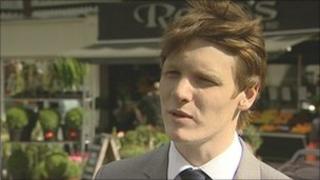 A teenage politician has hit back at critics who say he cannot fulfil his duties as a councillor while studying at university in London.
Nineteen year old Josh Newlove - who represents Labour on the East Riding of Yorkshire Council - is due to take up a place at the London School of Economics in October.
Councillor Newlove snatched one of the seats in the Tranby ward from the Liberal Democrats in May's local elections.
The Liberal Democrats have raised concerns about his ability to serve local residents if he's based in the capital for much of the time.
Mixed reaction
One disgruntled Lib Dem suggested that Josh Newlove had been less than honest with voters during the election campaign and had won the seat "under false pretences".
But Councillor Newlove has dismissed those claims. Speaking to Peter Levy on BBC Look North he said: "People need to judge me on what I am going to do and what I have done in four years' time.
"I have a very good team behind me in the Labour Party and we're looking to do great things for the people we represent."
On the streets of East Yorkshire there has been a mixed reaction to Josh Newlove's decision to go to university in London while remaining a councillor.
Some residents in the Tranby ward did question whether he would be fully able to serve their community from a distance of more than 200 miles away.
Twitter feedback
However, the teenage councillor has received a much more sympathetic hearing on Twitter.
Rebecca posted this message: "I see no reason why Josh Newlove won't make a great councillor - he has proved this already in my eyes and I don't see why living in London is such a big issue. I know people at Uni in London who come back to Hull three or four times a month."
The minimum age to become an elected councillor is 18, but a recent survey suggests the average age is 59.
So the age old debate about youth versus experience has taken a new twist in this corner of East Yorkshire.