Alexandra Hospital looks into Betty Leighton's care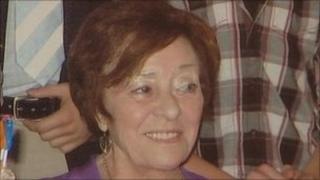 A Worcestershire hospital has said it will carry out an investigation into the events leading up to the death of a patient six weeks ago.
Peter Jinks claims his dying mother Betty Leighton was neglected and malnourished at the Alexandra Hospital in Redditch despite suggestions it was improving after a critical report.
He said staff did not "keep their eye on the ball" in monitoring his mother.
Hospital bosses have met Mr Jinks and said they will investigate the case.
Mr Jinks, from Solihull, said his 70-year-old mother, who was admitted in February and died on 30 April, was not fed intravenously when it was "obvious" she could not swallow.
However he said he did not believe the failings at the hospital contributed to his mother's death.
Independent review
He said before she went into hospital she could not eat or drink apart from "bits of cakes" and everything she consumed was "brought back up".
His mother was on a drip and then she deteriorated over three weeks before she was moved to intensive care after suffering a suspected heart attack.
Only when she arrived in intensive care did staff realise she was malnourished and liquid food was prescribed, he said.
After meeting hospital officials on Friday, Mr Jinks said they will report back to him in about three weeks.
He said he felt "a bit more relieved" after the meeting and discussing his concerns.
Last week, the trust said it would conduct an independent review into how it looks after elderly patients.
The hospital's chief executive John Rostill said on Monday he would retire in July.
Mr Rostill has spent eight years in his post as chief executive of Worcestershire Acute Hospitals NHS Trust. The trust said his departure was not connected to last month's critical report by the Care Quality Commission (CQC).
The CQC, which carried out unannounced inspections, said that the way patients' food and drink needs were met was a "major concern".
The hospital previously said it had already begun to tackle the problems.