Florida shooting: Shawn Tyson found with 'same bullets'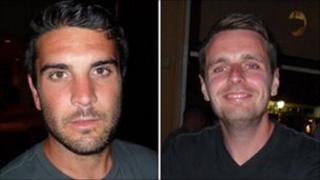 A 16-year-old boy charged with the murder of two UK men in Florida was found with the same type of bullets which killed them, court papers show.
Shawn Tyson was arrested over the murders of James Cooper and James Kouzaris in Sarasota, in April.
US documents also show anonymous tips led police to search the boy's home.
Mr Cooper, 25, of Warwickshire, and Mr Kouzaris, 24, of Northampton, were shot dead in the Newtown area while on holiday.
They had been in Longboat Key, 12 miles from where they were killed, with Mr Cooper's parents, from Hampton Lucy, Warwickshire.
Shawn Tyson was released from police custody shortly before the killings, despite a judge raising concerns he was a danger to the community.
He has been charged as an adult with two counts of first degree murder.