Royal Marine Adam Brown killed by undetected bomb in Afghanistan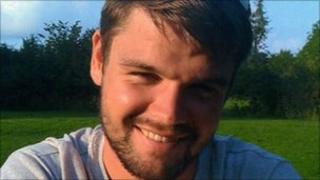 A Royal Marine died instantly in an explosion in Afghanistan after a metal detector had scanned the ground and found nothing, a inquest has heard.
Marine Adam Brown from 40 Commando, Royal Marines, suffered "catastrophic injuries" when the improvised explosive device (IED) went off on 1 August 2010.
The 25-year-old, who lived in Somerset but was originally from Hampshire, was in a 22-person patrol in Sangin.
The coroner recorded a verdict that he was killed while on active service.
Marine Richard Reeves was about eight yards behind Marine Brown when he was killed, he told the inquest in Alton, Hampshire.
"Four men went through," he said. "Marine Brown turned around, looked at me and all of a sudden there was a massive explosion and debris came towards me and I blacked out.
"People shouting brought me around. Everyone was shouting 'Reevesy'. I knew straight away it was Marine Brown."
'Childhood sweetheart'
Members of the unit could not initially find Marine Brown, but then located him eight yards away in an irrigation ditch and discovered he was dead.
The explosion, which was probably detonated by command wire, left a 10ft (3m) wide and three-foot (1m) deep crater and a great deal of dust, the hearing was told.
Marine Alan Henderson was using the Vallon metal detector at the head of the patrol.
He told the inquest he had received no readings on the hardened track as he scanned.
Troop commander Capt Daniel Sawyers said armoured vehicles had not been available but the patrol had had to be on foot along part of the route.
Marine Brown was deployed to Helmand in April last year as a signaller with 3 Troop, Alpha Company, and operated from Patrol Base Almas.
He lived in Burtle, near Glastonbury, Somerset, with his wife Amy, whom he married in December 2009.
Mrs Brown said in a statement at the time of her husband's death: "My wonderful husband, my childhood sweetheart and best friend.
"Always a hero in my eyes and I am so proud of you. I will treasure the perfect memories I have of our life together, always.
"You are a true inspiration to all who knew you and you made me the proudest woman in the world when I became your wife. I love you now, always and forever."