'Jane Austen' portrait fails to sell at Christie's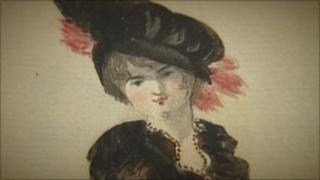 An album believed to contain one of only four surviving portraits of the author Jane Austen has failed to sell at auction.
The book, owned by Kent sculptor Simon Wheeler, was found by his father in a bookshop in Canterbury in the 1950s.
It contains 47 watercolours and drawings by James Stanier Clarke, librarian to the Prince Regent, who is known to have met Austen in 1815.
The book was expected to fetch between £30,000 and £50,000 at Christie's.
Experts have carried out analysis of the facial features with known portraits of Austen and believe it to be a genuine depiction of the author of Pride and Prejudice and Sense and Sensibility.
It has not been verified by the National Portrait Gallery, which houses a portrait painted by her sister Cassandra.
A spokeswoman for Christie's said she did not know whether the owner of the album would put it up for auction again.