South West Trains delay chaos prompts review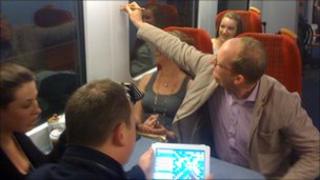 A rail company has said it will review the way it responds to service disruption after thousands of passengers were stranded for hours.
A heavily pregnant woman was among a group who got off one of the South West Trains (SWT) services outside Woking, Surrey and walked along the tracks.
SWT said Thursday night's problems on trains in and out of London Waterloo were caused by vandalism to a cable.
"We are committed to learning any lessons," it said.
Network Rail said 60 trains out of London Waterloo were affected by the signalling fault.
Further delays were caused because power to the rails had to be turned off when the passengers went on to the track.
'Police angry'
Emma Firth, from Farnham, who is eight months pregnant, said: "Me and another man talked to each other and said: 'This is our only chance'.
"In my condition I wasn't going to sleep overnight on a train, I had no food or drink.
"So the man gave me a piggy back off the train and helped me walk down the track.
"One guard, with a torch, helped us walk across the track safely and was very polite but the police at the gates were very angry, saying we had trespassed.
"I got home around 2300 BST."
Another passenger, who asked only to be named as Keith, said he took the 18.33 South West Trains service from Clapham, which ground to a halt near Woking.
He said the passengers, who also included a diabetic man who needed insulin, decided to get off the train after about two hours.
"There were constant announcements every five minutes from the train driver saying he did not know when we would be moving.
"When we got to the gates the police tried to get our names, saying we were trespassing and that South West Trains take this behaviour very seriously.
"They didn't manage to get any of our names in the end. I got home at around 23.30."
Passenger Tim Leunig was stuck at Waterloo.
"What was amazing was the lack of information at Waterloo and the lack of thinking through which trains to run and which to cancel," he said.
"They kept blaming different things."
'Tell the drivers'
MP for Mole Valley, Sir Paul Beresford, said: "It seems to me as though there was a lack of communication between Network Rail and South West Trains, particularly as evacuation has to be done really carefully.
"Someone should have been telling the drivers and the drivers should have been telling people."
SWT trains said some services had to be cancelled on Friday morning and others were running with fewer carriages than normal.
It apologised for the latest in a series of disruptions to hit passengers this week.
"The signalling problems are now reported to have been caused by deliberate damage to signalling system cable," it said.
"We are extremely angry and frustrated that mindless and irresponsible vandalism meant that many of our passengers had a terrible journey last night.
"As a matter of course, we will work with Network Rail to review the response to last night's disruption.
"We are committed to learning any lessons and taking any steps required to improve the flow of information to passengers."
Transport Secretary Philip Hammond said the review would look at what happened and the communications issues.
"Whatever the original cause we need a proper robust and reliable system for communicating with passengers and getting them to stations as quickly as possible," he said.
"Anyone running a business, when something goes wrong, needs to talk to their customers."
British Transport Police said its officers spoke to the passengers at Woking about the dangers of going onto the line without being directed to do so by rail staff or a police officer.
"We understand the concerns of passengers, particularly the heavily pregnant woman, and we are sorry if anyone felt our officers were not sympathetic to their plight."