Knife crime campaigner and mint ball maker honoured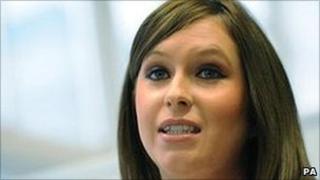 An ex-EastEnders actress turned anti-crime activist and the head of a sweet firm are among those in England named in the Queen's Birthday Honours list.
Brooke Kinsella, 27, who set up a trust after her brother was stabbed to death in north London, has been made an MBE.
John Winnard, of Wigan's William Santus & Co, has become an MBE for services to confectionery.
Veteran dinner lady Patricia Gilman, 65, is among hundreds of people honoured for serving their communities.
At total of 965 people were named in the honours list, of whom more than 70% were "local heroes" who have carried out unsung work for their communities.
Ms Kinsella set up the Ben Kinsella Trust in her brother's memory after the 16-year-old was killed in June 2008.
She has been appointed a government adviser and in February published a report on tackling knife crime where she said "the key word is prevention, not cure".
Meanwhile, Mr Winnard, joint managing director of the firm which has been making Uncle Joe's Mint Balls for 113 years, said: "It's great to be recognised."
Clean water charity
Ms Gilman, who has worked at the Kenmore Park First School in Harrow, north-west London, for 31 years, was also appointed MBE.
The school's head teacher Rutinder Mahil-Pooni said: "She does this because of her commitment to the children - she loves the children."
A former soldier from Staffordshire who has lost most of his sight to diabetes is among those honoured for charity work.
David Stuttard, 65, of Biddulph, Stoke-on-Trent, has used skills learnt in the Royal Engineers to improve water sanitation in Ghana to stop people losing their sight as a result of water-borne parasites.
Mr Stuttart's organisation MyUbique has helped about 50,000 people access clean drinking water.
"When I think of all those people having access to clean water, and that it came about by me losing my sight, it's quite amazing," he said.
"When I told my family about the MBE they were absolutely elated."
A nurse who took over the running of a charity when its founder died suddenly in 1993 is also among those appointed MBE.
Elizabeth White, from Gloucester, took over the Cloud 9 charity, which organises fundraising activities to take ill and disabled children on holidays.
Butterfly honour
Oxford University professor Jeremy Thomas, who helped reintroduce a butterfly which had become extinct in Britain, has also been recognised in the Queen's Birthday Honours list.
Prof Thomas, who lives near Blandford Forum, Dorset, was appointed OBE for services to science after leading a research project which resulted in the reintroduction of the maculinea (large blue) butterfly.
And Joe Henson, who founded the Warwickshire-based Rare Breeds Survival Trust to conserve Britain's native farm livestock, has been appointed MBE.
The chief executive of an environmental regeneration charity is among those to receive a knighthood. Anthony Gerard Hawkhead, from Solihull, has been recognised for his work with the charity Groundwork, which runs thousands of projects each year.
Henry Cecil, 68, from Newmarket, Suffolk, one of the country's most successful racehorse trainers, has been knighted for more than 40 years of service to the sport.
Three of those involved in England's Ashes triumph in Australia in the winter are also among people in the world of sport to be honoured.
Skipper Andrew Strauss and coach Andy Flower are made OBEs and Alastair Cook an MBE.