South East hospitals charged £1.5m for ambulance delays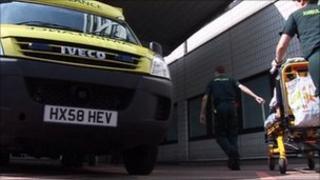 Hospitals in south-east England were charged nearly £1.5m by an ambulance service for delaying paramedic crews during the 2010/11 financial year.
Patient handovers should not take longer than 15 minutes. Hospitals are charged £2.44 for each extra minute.
Jonathan Fox, from the Association of Professional Ambulance Personnel, said delays kept crews from other jobs.
But Rob Way, a consultant nurse at Oxford's John Radcliffe Hospital, said its waiting times were improving.
The charges are from South Central Ambulance Service.
It serves hospitals in Berkshire, Buckinghamshire, Hampshire and Oxfordshire.
'Life-threatening emergency'
Mr Fox said calls to the service had increased by 12% in the past year, from 432,000 to 495,000.
"The more calls you respond to the more patients you take to hospital and obviously the law of unintended consequences is you end up with significant delays.
"What the delays are doing is making it more difficult for ambulance staff to become available for the next emergency, which could be a serious or life-threatening emergency."
Chris Ringwood, from The Patients Voice, said: "I would like to see the hospital and the ambulance service do a little bit of joined up thinking.
"The ambulance service is there to take people to hospital. It's up to the hospital to take charge of the patient as soon as possible."
The John Radcliffe Hospital said it had recently changed its procedures to bring delays down.
'More efficient'
Patients previously went through two handovers which have been reduced to one.
Mr Way said it had brought average times down from 20 minutes to 12.
He added: "It's made the process more efficient so that the ambulance crews are able to hand over to the nurses co-ordinating the emergency department so they can go and respond to the next calls that are coming in to them."
The John Radcliffe Hospital said it would be helping other trusts to bring their handover times down too.
Southampton General Hospital was charged for 3,059 hours of waiting time during the 2010/11 period.
The John Radcliffe Hospital delays amounted to 2,249 hours, the Queen Alexandra Hospital in Portsmouth 2,168 hours and the Royal Berkshire Hospital 2,063.
Delays have more than doubled at North Hampshire Hospital in Basingstoke and Horton Hospital in Banbury in the past two years.