Funds to repair churches in East of England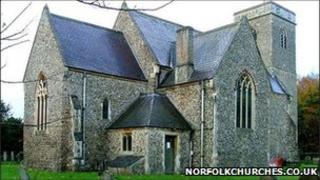 Four Grade II listed churches in East Anglia are to benefit from Lottery funding for "vital repairs".
The Repair Grants for Places of Worship scheme announced on Thursday it would give £8m to 67 Grade II listed churches, chapels and synagogues.
More than £250,000 from the scheme will be shared by the Greek Church of St Spyridon and St John's, Great Yarmouth, and All Saints in Great Melton.
The Church of St Mark in Friday Bridge, Cambridgeshire, will also benefit.
St Mark's has been awarded £98,000 for repairs to the Victorian Gothic roof on parts of the chancel, vestry, nave and porch, and repairs to rainwater guttering.
The Church Of St John, in Great Yarmouth, will use its £104,000 grant to carry out repairs including re-slating the north slope of the nave roof, and the north slope of the south aisle and south transept.
The Greek Church of St Spyridon has been offered £22,000 towards church tower roof repairs including external wall repairs and work to two windows near the chancel.
A grant of £27,000 has been given to the Church of All Saints, Great Melton, towards repairing the church tower, its parapet, masonry and rainwater chute, plus improved drainage.
Since 2002, almost £200m of Heritage Lottery funding has been used to help repair more than 2,000 listed places of worship.
The funds are administered by English Heritage.