Coal freight hope for Weardale Railway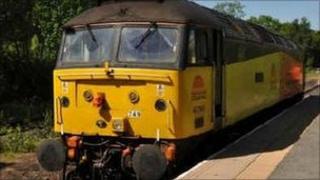 Freight trains could soon be returning to a heritage railway line in County Durham, after a gap of almost 20 years.
The American owner of the Weardale Railway has been carrying out trial runs with coal wagons.
If successful, regular services from Wolsingham linking to Scunthorpe could be in operation by July.
The heritage line re-opened five years ago for passengers after the service was withdrawn in 1953. It was used for freight until 1993 and then mothballed.
The line was originally built by the Stockton and Darlington Railway in 1847.
After 1993, it was kept alive by local volunteers, with the help of lottery and European grants, until it was taken over by its current owners, British American Rail Services, in 2008.