Warship HMS Invincible broken up in Turkish port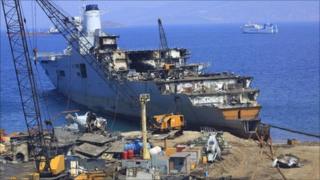 Ripped apart and broken up, this is what's left of the Falklands War veteran HMS Invincible.
The former Royal Navy warship, which served for 25 years, rests in the Turkish port of Aliaga where its metal is being melted down and sold.
Launched by the Queen in 1977, the 22,000-tonne aircraft carrier has served in conflicts including Iraq and the Balkans.
Invincible is the sixth ship in the Royal Navy's history to bear the name.
It was laid down at Vickers' shipyard in Barrow in 1973.
The warship served in the 1982 Falklands War, deploying Harrier fighter aircraft against Argentine forces and the Duke of York was based on board as a Sea King helicopter pilot.
Decommissioned in 2005, it left Portsmouth in March for the the last time before travelling to Leyal Ship Recycling, based near Izmir, Turkey.
It will take up to eight months to dismantle.
Leyal has been involved in the scrapping of several Royal Navy ships - the destroyers Cardiff, Newcastle and Glasgow and auxiliary ship RFA Oakleaf.