North East unemployment falls but remains worst in UK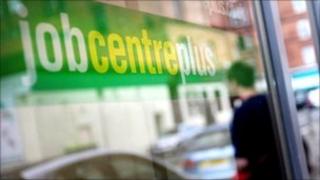 There has been some good economic news for the North East as unemployment has fallen in the region for the first time since last November.
The number of people out of work fell by 8,000 last month, bringing the jobless rate down below 10%.
It follows several months where unemployment rose in the North East while falling in other parts of the country.
The news is clearly welcome, but it's hard to see it as the beginning of an upward curve just yet.
The region still has the highest unemployment rate in the country, and the number of people employed last month actually remained unchanged.
And a report released by the TUC suggests it could be a long time before the North East gets back to pre-recession levels of employment.
Highest rate
It claims the employment trends show the North will take longer to recover than other parts of the country.
The TUC says jobs are just not being created in significant enough numbers.
It's released figures which show that nine people are chasing every vacancy in the North East - the highest rate in the country.
That figure rises to 20 per vacancy in Middlesbrough, and even in the best-performing area - Sunderland - there are six people out of work for every job.
You won't be surprised to know, the TUC blames the government for that. It says the cuts policy needs to be rethought, and greater help offered to the region.
Neil Foster, the policy and campaigns officer for the Northern TUC said: "There is a complacency among ministers that a hands-off approach will be sufficient to repair our economy after a global recession. As it stands it is still much harder to find a job in the North East than any other region.
"This means we need an active industrial approach to reverse the widening jobs deficit between North and South."
Real progress
The view from the coalition benches is different though.
Conservatives and Lib Dems see the recent announcement of investment in Nissan as evidence that their emphasis on attracting private sector jobs is working.
The reopening of the Redcar steelworks and the investment by Hitachi in train-building in Newton Aycliffe are also seen as examples of real progress.
The region's CBI also says it is hearing more positive stories from its members.
The North East Chamber of Commerce is guarded. It's welcomed the figures, but says it's too early to say that a trend has developed.
So the government will be pleased to see some sign of progress in the unemployment figures.
But until the number of people actually in work in the region begins to significantly rise, the jury will be out on whether the government's economic strategy is working.