Crash pilot 'avoided emergency landing to save others'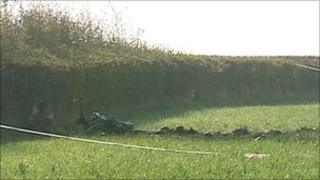 Two men killed when their plane crashed may have chosen not to have made an emergency landing, fearing other lives could have been at risk.
Shorland Hosking and Richard Wheeler, both of Dorset, died when the light aircraft crashed into a field near Andover, Hampshire, last April.
An inquest heard the men may have deliberately avoided landing close to where a sports event was being held.
Coroner Grahame Short recorded a verdict of accidental death.
The inquest heard that moments before the aircraft crashed, Mr Hosking had put out a mayday - reporting the cabin filling with smoke.
Air accident investigators concluded an electrical fault may have given off fumes, leaving the men disorientated.
'Competent pilot'
The two friends, both experienced pilots, had been returning from Duxford, Cambridgeshire, when the plane got into difficulties.
Mr Hosking, from Poole, a consultant at the local hospital, and Mr Wheeler, a businessman from Bournemouth, were both committed Christians who had met through the church.
Mr Hosking, 55, who was flying the plane, had held a private pilot's licence for several years, and his 50-year-old passenger had also previously held a licence.
The inquest heard Mr Hosking had shown "considerable presence of mind", and may have chosen deliberately to avoid the recommended emergency landing at Thruxton in order to minimise the risk to the many thousands of people attending a motor sports event there that day.
Recording his verdict, Mr Short expressed his hope that both men's families would take some comfort from the knowledge that the pair did not suffer, and that they died doing something they loved.
Afterwards, Mr Wheeler's son, Tom, said: "It was an accident, an unavoidable accident.
"As the coroner said, we are confident that Shorland was a very, very, able and competent pilot and did everything he could."
Mr Wheeler's widow, Pauline, added: "He was an excellent father, excellent husband, and he's left a big hole in our lives.
"But by god's grace we're just going a day at a time, and we're all looking out for each other and just pressing on."