Downview prison officer 'ordered sex act', court told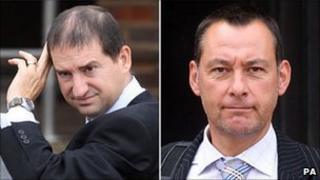 A senior prison officer ordered a frightened woman inmate to perform a sex act with him, a court has heard.
It was the start of a three-year relationship between the woman and acting governor of Downview Prison in Sutton, south London, jurors heard.
At Guildford Crown Court, Russell Thorne, 41, of Sutton, denies two counts of misconduct in public office.
His co-accused, officer Simon Dykes, from Dorking, Surrey, denies six counts of the same charge.
Guildford Crown Court was told the inmate, who cannot be identified, feared at one point that she was pregnant.
Mr Thorne, of Sinclair Drive, became sexually involved with three more inmates at the women's prison during the relationship and apologised to the inmate by buying her a ring and getting down on one knee, the jury heard.
'Lose perks'
Giving evidence, the inmate said she made Mr Thorne "pay" for his alleged infidelities in cash or with gifts selected from an Argos catalogue.
She fell 'in love" with the prison officer but felt she had to comply with his wishes for fear of losing the perks that came with their relationship, jurors were told.
She said Mr Thorne had first forced her into a sexual act in his office three months after they met in 2006.
"I wasn't really ready for that because I was scared but he said, 'It's an order' so I said 'OK'," she told the court.
On another occasion, she became concerned he would cancel a party organised on her behalf if she did not do as he wished.
Meet in office
Contraception was not used and she was left "paranoid" she might end up pregnant, jurors were told.
Mr Thorne provided her with laxatives in a bid to prevent this, she said.
The court was told the pair would meet frequently in his office, the prison library or a store room.
An inmate who knew of the affair would sometimes stand guard and on other occasions Mr Thorne would hang a coat over his office window so no-one could see in, the jury was told.
The officer even had sex with the witness and another inmate in a cupboard, it was alleged.
The trial continues.