Australian London 2012 cyclists to train in Surrey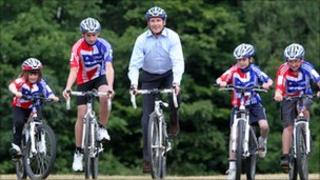 The Australian Olympic road cycling team is to begin training in Surrey this summer ahead of London 2012.
The Olympic road cycle races and time trial events will both take place in Surrey during the London Olympics.
The Australian team will return next summer, when they will base themselves in the county to prepare for the Games.
"I am delighted a team with as strong a sporting pedigree as Australia has decided to train their athletes here," said Councillor Denise Saliagopoulos.
"I'm sure Surrey will give them a welcome they will never forget and I hope their presence will encourage even more people to take up the sport."
The Australian Olympic Committee does not want to reveal the exact location of its training camp for security reasons.
"It is vital that our athletes acclimatise in the lead up to the Games and we appreciate the people of Surrey allowing our road cyclists to train there before the competition," said Australian Olympic Team boss Nick Green.
"There is great rivalry between Team GB and Australia in cycling but we're sure the people of Surrey will support our cyclists as they prepare to go for gold at the Games."
Antigua and Barbuda, the Cayman Islands and the Croatian Paralympic Team have already announced they will train in Surrey.
The county council said it was also in advanced talks with a number of other nations.