Royal Marine Lt Ollie Augustin's Kent funeral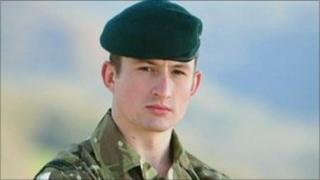 The funeral of a Royal Marine killed in a bomb blast in Afghanistan has taken place in Kent.
Lt Ollie Augustin, 23, from Dartford, was killed alongside Marine Sam Alexander, 28, of Plymouth, on 27 May.
The two men, both of 42 Commando, were killed in the Loy Mandeh area of the Nad-e Ali District of Helmand Province as they searched a compound.
Lt Augustin's funeral service was held at St Martin of Tours Church in Eynsford.
Hundreds of mourners gathered at the church to hear tributes in his memory.
About 30 relatives and friends of Lt Augustin walked behind the hearse as it arrived at the church in front of a row of veteran standard bearers.
The hour-long service was relayed outside via audio and video-link.
The former Dartford Grammar School pupil was described by colleagues as a "one in a million friend" who was inspirational, passionate and selfless.
He was leading a patrol when the device exploded.
Defence Secretary Dr Liam Fox said he was a "natural leader who led from the front and set a fine example for those that he worked with".
'The Boss'
Lt Augustin left school aged 18 and took a gap year, during which he volunteered at a school in Kenya.
Nicknamed The Boss by comrades, he began his Royal Marines training in 2009 and was passed fit for duty in December last year.
His first appointment was in command of Fire Support Group, Juliet Company, 42 Commando Royal Marines.
He was described by his parents, Jane and Sean, as "a much-loved and cherished son".
"He was a beautiful boy who we were very proud of. He had many friends that he loved and who loved him in return," they said.
"His warmth and humour lit a room and infected all around him. He dealt with people in a thoughtful and compassionate way.
"His independence and sense of adventure meant that he embraced life and his chosen path."