Milly Dowler trial: No evidence from Levi Bellfield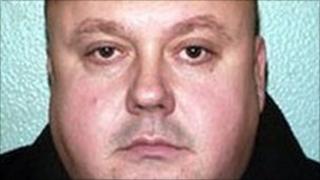 The man accused of killing Surrey schoolgirl Milly Dowler has declined to give evidence at his Old Bailey trial.
Levi Bellfield, 43, who denies murdering the teenager, told judge Mr Justice Wilkie that he would not be speaking in his defence.
Prosecuting, Brian Altman QC said Bellfield was trying to put Milly's parents Bob and Sally Dowler on trial.
Their 13-year-old daughter vanished in Walton-on-Thames in March 2002 while walking from school.
Her body was found in Yateley Heath, in Hampshire, six months later.
Bellfield denies abducting and murdering Milly, and attempting to kidnap 11-year-old Rachel Cowles the day before.
Mr Altman told the jury that Milly's parents' lives had been laid bare after the years of suffering they endured following the loss of their child.
He told jurors: "The grieving parents are not on trial here.
"That fact may have been forgotten when they came to give their evidence to you."
After Bellfield declined to give evidence, the judge asked defence counsel Jeffrey Samuels QC if he had advised his client that "the jury may draw such inferences as it sees proper", and he confirmed he had.
'Wealth of evidence'
In his closing speech, Mr Altman said Bellfield had "ducked the opportunity" to give his side of the story from the witness box because he had no innocent explanation.
He said there was a "wealth of evidence" about "his conduct, his actions, and his words at the time of Milly's disappearance" for which jurors would have wanted to hear his explanation.
"How, for instance, would he have explained, when tested, his behaviour on the day of, and the night following, Milly's disappearance?" asked Mr Altman.
"We don't know, because he has declined to give us his account, tested and examined from the witness box."
Mr Altman told the jury that it was reasonable to expect that Bellfield would have wanted "to grasp the opportunity of explaining and protesting his innocence, but he has not done so".
"The reason he has not done so is that he doesn't have an innocent account to give - an account that will stand the test of critical scrutiny."
Mr Altman said the case against Bellfield relied on "many strands of circumstantial evidence" as abductions and killings were "seldom observed by others or seen for what they really are".
'Father's lifestyle'
Mr Altman said Bellfield had given evidence at his first trial, but chose not to in this trial.
He said Mr Dowler had been questioned about porn he had hidden that was discovered by his daughter, Mr Altman said.
And Mrs Dowler had been accused of "shutting her eyes" to the situation, he added.
He said: "As I understand it, it is going to be suggested that Milly had run away, she did not want to be in her father's company that day.
"So she hung around Station Avenue, only to slip away into the arms of someone else.
"What under-pins this theory? The father's lifestyle as well as the aspects of Milly's character."
He said the defence was advancing a "ludicrous theory".
Milly 'had happy life'
Mr Altman added: "No one, absolutely no one in this court other than Mr and Mrs Dowler and their daughter Gemma, can possibly know or understand what it is like to have lost a child or sister in dreadful circumstances.
"Not knowing, month after month, what had become of her - only years later to have their lives laid bare in this court."
Mr Altman said Milly was "an intelligent girl, top set at school, interested in all the topics a 13-year-old girl would and should be".
Referring to letters from Milly in which she described herself as a disappointment, Mr Altman said parents knew that age could be "challenging" but Milly was not "dark or depressive".
Witnesses had described her as "very close to her family" and a girl with "a very happy life".
Bellfield, a former wheelclamper and bouncer, was convicted in 2008 of the murders of Marsha McDonnell, 19, and Amelie Delagrange, 22, and the attempted murder of Kate Sheedy, 18.
The trial was adjourned until Friday.