Conservative MP for Harlow seeks to end 'fuel price rip-off'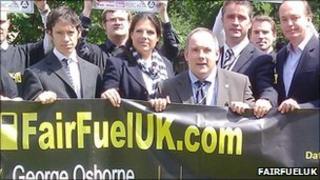 Are we being "ripped off" at the petrol pumps? An all-party group of MPs, led by Robert Halfon, argues "yes we are".
Fuel prices have dipped for a few weeks when the price of oil dropped but now they are creeping up again, and the chances are they will be going up even more.
So are we heading for a new fuel crisis? That was the question on the lips of the Conservative MP for Harlow, when he called for ways to end 'the Great British fuel price rip-off' in a Westminster Hall debate.
Mr Halfon said that when the fuel protests broke out in the year 2000 the country was worried about 80p per litre, and the damage it might do to the economy.
"But now even the cheapest petrol station in my town is charging 133p per litre," Mr Halfon said.
"This means the average Harlow motorist spends £1,700 a year just to fill their tank. A tenth of the average Harlow income."
"As well as no further rises in fuel duty I am urging that the government sets up a commission into why fuel prices at the pump are still far too high, even though oil has fallen on the international markets, and to examine alternatives to rising fuel duty."
Commodity markets
Justine Greening MP, Economic Secretary to the Treasury, replied on behalf of the government: "The price of oil is a spot price driven by commodity markets. We are talking about a part of the industry that is different from the area in which we chose to raise tax," she said.
"We are working with industry to ensure that we mitigate any risk of a lessening of investment in the North Sea as a result of that tax.
"We scrapped the fuel tax escalator and we understand how motoring impacts on the broader economy."
Several MPs made special mention of the plight of UK road hauliers who are being undercut by foreign lorries pouring into the UK with tanks full of fuel bought on the continent, at duty levels up to 24p per litre lower.
'Rightly furious'
Peter Carroll, of FairFuelUK said: "Motorists and businesses are rightly furious that oil prices have fallen, but pump prices still remain very high.
"Nearly every MP present at the debate agreed with the call for more transparency in the market so that hard-pressed motorists and businesses can see 'who' is taking 'what' out of the price of a litre."
Mr Carroll added: "This debate was just the start of a long battle in Parliament. All our recent polling quite clearly shows that the cost of fuel is right at the top of people's agenda".