Funeral for Military Cross marine Sam Alexander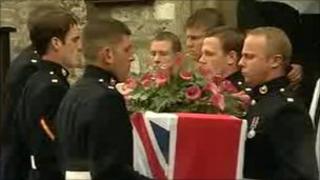 The funeral has taken place of a Military Cross holder killed in an explosion while serving in Afghanistan.
Marine Sam Alexander, 28, from Plymouth, was killed in a bomb blast on 27 May along with his troop commander, Lieutenant Ollie Augustin.
Originally from Hammersmith, west London, he leaves wife Claire and a one year-old son, Leo.
His funeral took place at the Minster Church of St Andrew's in Plymouth.
Marine Alexander's parents, Serena and Stuart Alexander spoke during the service which took place a day before their son's 29th birthday.
Mrs Alexander said: "He believed 100% that what he was doing was going to help others.
"He believed Afghan women deserved the same chance of education as he had and that the Afghan people deserved to live as he did, without oppression.
"He believed in making the world a better place."
His father said that when his son was awarded his Military Cross "he emphasised it was not for him, it was for his troop, his company, the team, the lads. He was proud to be a Royal Marine".
"He had an unusual ability to break the 11th commandment 'thou shalt not get caught'. He got caught."
At the time of his death his wife Claire said: "Sam was so special. He was the gentlest of men but tough when he needed to be. He risked his safety for his friends but never batted an eyelid."
A private burial was held after the church service at Bickleigh where 42 Commando Royal Marines' base was and where he and Lieutenant Augustin were both serving.
The marines had been taking part in Operation Omid Haft alongside soldiers from the Afghan National Army (ANA) in central Helmand.
They were searching a compound there when an improvised explosive device exploded, which killed them and injured several others.
Marine Alexander joined the Royal Marines in 2006.
He was awarded the Military Cross in 2009 for saving the life of a wounded colleague in Afghanistan by charging at Taliban fighters with his pistol to provide cover.