In The Night Garden at Woburn Abbey dome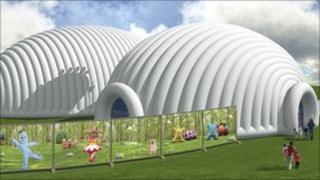 The grounds of Woburn Abbey are hosting an unusual structure this summer, to sit alongside the famous art collection and safari park.
A large, inflatable, all-weather showdome has been constructed in the park next to the Abbey.
The PVC theatre is 67 metres long, 35 metres wide and 13 metres high and has the facilities of a regular theatre.
For two weeks, it will stage a live version of BBC TV's In The Night Garden.
General Manager Jonathan Irby said it was "the perfect thing" for Woburn.
"The house itself is obviously one of the most amazing houses in the country with amazing art in it, but actually for a family day out there's got to be more than pictures, art and paintings, especially for families with small children."
However much of a departure it seems to have an inflatable theatre in the historic grounds, the stately home does have a theatrical history.
"If you go back 100 years you wouldn't have had something like this, but having said that the family have always been into theatre," said Mr Irby.
"A few generations ago they put on plays in the house and there's still some of the old silk embroidered play programmes on display.
"For any stately home such as this it's about trying to make yourself as interesting as possible so it's not just about the collection of art."