Rain brings respite to crops but drought rules to remain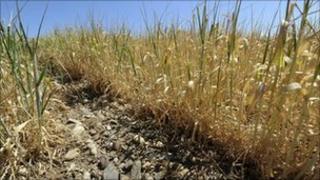 The wettest week in the east of England since February has provided some relief for crops, but the drought areas still remain under restrictions.
The Environment Agency is to keep restrictions in force in Lincolnshire, Cambridgeshire, parts of Norfolk, Bedfordshire and Northamptonshire.
Trevor Bishop, head of water resources, said: "The rainfall this week will not reverse the effects of the dry spring.
"But it has provided welcome water for crops, gardens and rivers."
Further sustained rainfall is needed to maintain river flows.
"They will drop again, which could harm wildlife and increase the impact of pollution incidents," Mr Bishop said.
"Our teams remain on alert to respond to environmental impacts of drought.
"The Environment Agency is working with farmers and others to balance the water needs of people, businesses and the environment.
"It's important that we all use water wisely at all times of the year, especially in dry periods," he said.
There are restrictions on the use of crop irrigators in the drought areas.
Farmers have warned that the English wheat harvest is expected to drop by 15% this year as a result of the drought conditions.
The National Farmers' Union said the area planted with wheat is similar to last year but production is expected to be much lower due to the extremely dry spring.